#22💖15
Koikatu! / Koikatsu! / Koikatsu Party

Compressed BetterRepack Release X11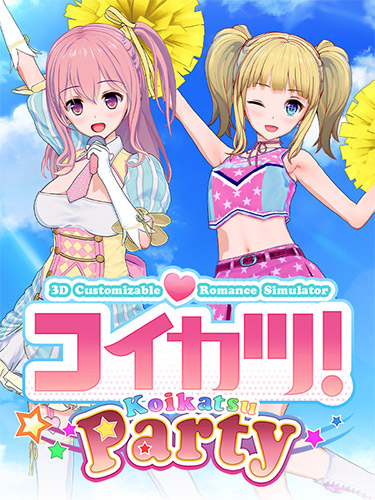 Genres/Tags: Adult, Dating sim, 3D, Japanese
Company: Illusion
Languages: RUS/ENG/MULTI11+
Original Size: 58.2 GB
Repack Size: from 14.3 GB [Selective Download]
Download Mirrors
Discussion and (possible) future updates on CS.RIN.RU thread
Screenshots (Click to enlarge)
BetterRepack
This repack is made with an official approval of ScrewThisNoise, the creator of original BetterRepack.
BetterRepack contains original Japanese version of Koikatsu! with all DLCs, latest updates, tons of mods, tools and cards.
And it can update itself with included updater!
Check his Patreon page here and support if you like this product.
https://www.patreon.com/BetterRepack
My Compressed BetterRepack is just a recompressed version of BetterRepack Release X11.
You still can get the original BetterRepack on STN's Patreon page.
This repack is unlikely to be ever updated in the future, since it's not needed when you have an updater built-in.
Repack Features
Based on STN's BetterRepack Release X11 with Sideloader Modpack from October 2, 2021: 58.2 GB
Updated KKManager installed over
100% Lossless & MD5 Perfect: all files are identical to originals after installation
NOTHING ripped, NOTHING re-encoded
Selective Download feature: you may skip downloading and installing of Sideloader Modpack (which primary usage is creating characters, poses. etc. in the game's Studio)
Significantly smaller archive size (compressed from 58.2 to 14.3/29.1 GB)
Installation takes (base game with essential mods, but w/o Sideloader Modpack): ~45 minutes on 8-threads CPU; ~1.5 hours on 4-threads CPU
Installation with Sideloader Modpack takes: from 1 hour up to 3 hours
After-install integrity check so you could make sure that everything installed properly
HDD space after installation: 31/58.2 GB (up to 123 GB during installation)
The game uses Google Auto-translation plugin, so constant online access for the game is required if you want to see translated dialogues
The game launcher supports only 10 languages natively, but you can enable auto-translation to your language by edition language string in this file: "BepInEx\config\AutoTranslatorConfig.ini"; In example, for Russian set language to language=ru
The game launcher has an in built game updater that will update your game and all mods based on your convenience
For those who want pre-made character cards (male/female) to use in character creation mode can get them from: https://illusioncards.booru.org/index.php?page=post&s=list&tags=koikatsu or https://kenzato.uk/booru/category/KK. Download them as .png/.jpg and place these cards in -> "UserData\chara" folder
At least 2 GB of free RAM (inc. virtual) required for installing this repack